Urology Sector Insights
APRIL 2022
Urology Market at a Glance1,2
The US urology market is highly fragmented with over 50 percent of practices serviced by one physician and less than ten percent of US practices having more than ten physicians
In 2020, 13,352 urologists were licensed in the US with approximately 85.7 percent providing patient care for at least 25 hours ("practicing urologist")
Of the US practicing urologists, 10.5 percent maintain their primary practice in non-metropolitan areas (in comparison to 20 percent of Americans living there, see graph below)
Telemedicine utilization increased substantially to 71.5 percent, up from 11.9 percent during 2019
Majority of new patients wait less than 3 weeks, whereas approximately 24 percent of patients wait for an initial appointment at least 4 weeks
| | |
| --- | --- |
| ~ $17.7B | Estimated 2020 US market size |
| ~ 393k | Average urologist salary |
| ~ 62% | US Counties lack a primary urologic practice |
| 51% | Of practicing urologists in private practices |
| ~ 18.8k | Average annual urologic patient cost |
---
Urologists to Population Ratio by State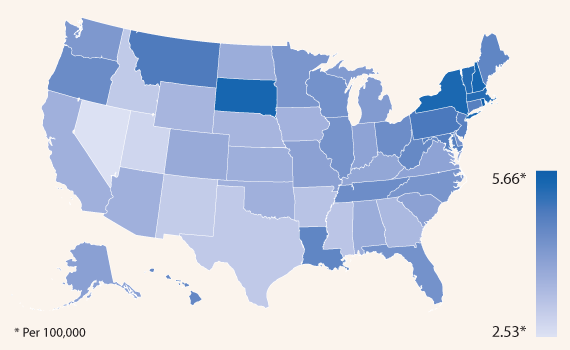 Distribution of Urology Practices
Non-Metropolitan Areas are Dominated by Older Urologists
As the older physicians retire, there will be a healthcare void
Number of Office Locations per Practice
1 American Urological Association
2 IBIS World
---
Urology Private Equity M&A Activity
Private Equity Platforms
| Platform | Founded | Locations |
| --- | --- | --- |
| | 2020 | 179 |
| | 2016 | 95 |
| | 2018 | 24 |
| | 2021 | 23 |
| | 2020 | 21 |
Private Equity Urology Deal Volume
Leading Factors Driving Interest in Urology and Overall Consolidation Among Practices
Macro-factors:
Supply and Demand
Adults aged 65 or older utilize urologic services at a 3-fold higher rate than the general population
The "graying of America" is expected to increase from 15% in 2016 to 22% by 2035
Urologist physician shortage is expected to reach 32% by 2030, driven by attrition of the aging provider population
Change in the
Workplace Setting
Practices are seeing an increase in the percent of employed providers
Female demographic continuing to grow among practicing urologists
Majority of female urologists are under the age of 45 while majority of male urologists are older than the age of 65
Integrated Offerings: ASCs, Lab, Oncology and Other
Highly fragmented oncology market structure
Estimated TAM for potential integrated offerings is approximately $47 billion
Lithotripsy, ultrasound and lab services offer the easiest potential for integration with urology
Low competitive environment compared to other physician specialties resulting in the opportunity to integrate with urology
The Drug Addiction Treatment Act of 2000 (DATA 2000) permits physicians who meet certain qualifications to treat opioid dependency with narcotic medications approved by the FDA –including buprenorphine – in treatment settings other than opioid treatment programs (OTP).
The Comprehensive Addiction and Recovery Act of 2016 (CARA) addresses the opioid pandemic and endorses the use of MAT for OUD.
The Substance Use-Disorder Prevention that Promotes Opioid Recovery and Treatment (SUPPORT) for Patients and Communities Act is a broad package of Medicaid, Medicare and public health measures to address the opioid epidemic. It works with the Opioid Crisis Response Act of 2018.
Rate pressures from new Medicare rating along with increases overall in operating expenses pose an undue burden on private practices
2022 CMS Final Rule outlines a 3.71% payment reduction across the urology specialty
AMB Investment Banking Snapshot and Deal Team
AMB focuses on lower middle-market healthcare niches where consumerism and fragmentation meet to disrupt traditional healthcare channels. We typically advise companies with EBITDA of $5M to $20M and an average enterprise value of $100M. AMB's research-oriented approach to business development has resulted in a vast network of strategic and financial sponsor relationships that yield industry leading intelligence and optimal outcomes for our clients.