Investment Banking
AMB's investment banking group focuses solely on healthcare companies and combines a wide array of services and capabilities with the passion, responsiveness and precision of a boutique firm. We offer some of the most advanced tools in the industry, and our clients engage in close, working relationships with our team.
We have considerable experience advising leading growth-oriented and middle-market healthcare organizations as they undertake integral, strategic initiatives at key inflection points in their life cycle.
Please contact one of our Investment Banking team members here to learn more.
---
Representative Industry Coverage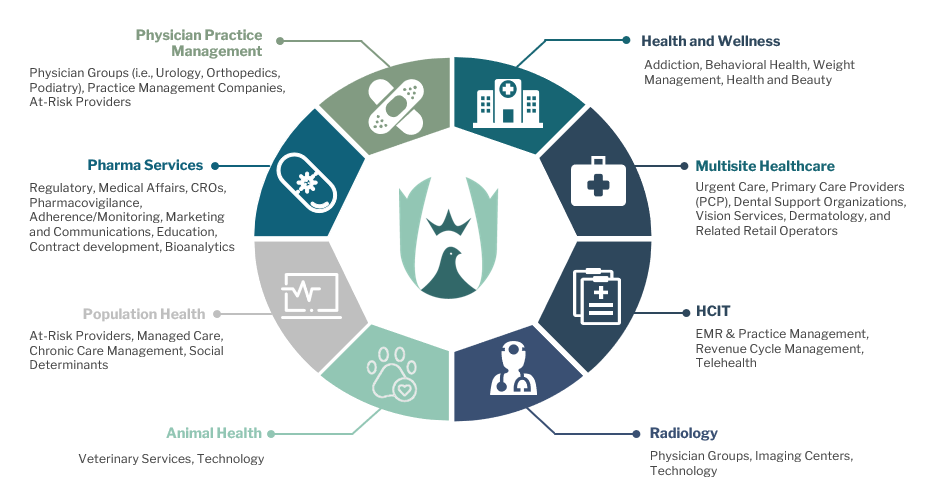 Our Investment Banking Capabilities
Sell-Side Advisory
Our services include advising on appropriate exit strategies, preparing company information, identifying and contacting qualified buyers, assisting in negotiations, and providing other transaction support.
We have access to – and long-term relationships with – a broad network of strategic and financial purchasers.
We have earned a reputation for delivering high value to clients, and a significant proportion of our business comes from mergers and acquisition client referrals.
Buy-Side Advisory
We assist companies with buy-side transactions by prospecting and evaluating strategic targets and handling all aspects of an acquisition to ensure a smooth transaction.
Our industry knowledge and network enable us to add uncommon value.
We take a precise approach to finding companies that add strategic value for our clients.
Merger Advisory
We provide a unique, third-party perspective to the valuation of businesses and strategic fit to ensure that shareholder value is maximized.
Strategic Advice
We provide advice to corporations regarding business strategy and capital budgeting.
Our services include, but are not limited to: Industry insight, CFO-level budgeting and analysis, strategic planning, and capital markets consulting.