NEWS
Keep up with the latest investment trends, market movements and news from AMB right here with our frequently updated expert commentaries, newsletters and announcements.
AMB is pleased to announce the recapitalization of Little Spurs Pediatric Urgent Care ("Little Spurs") to Great Point Partners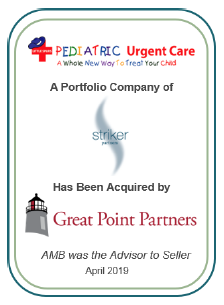 Allen Mooney & Barnes Brokerage Service LLC served as the exclusive financial advisor to Little Spurs in its recapitalization by Great Point Partners.
Little Spurs – founded and led by physician entrepreneur, Dr. Tom Spurgat and headquartered in San Antonio, TX – is a leading provider and one of the largest independent operators in the U.S. of pediatric urgent care services. The Company's primary markets are San Antonio and Houston with plans to grow further in Texas and nationally. Little Spurs was backed by Striker Partners, one of the private funds controlled by the Graham Group. Dr. Spurgat said, "AMB was an invaluable partner for Little Spurs as we recapitalized the Company with Great Point Partners. We are excited about the new partnership with Great Point Partners, one of the preeminent healthcare investors, and are looking forward to tremendous growth over the years to come."
AMB believes that pediatric primary and urgent care is an important sector in healthcare due to its high value proposition and large degree of fragmentation. With the Little Spurs transaction, AMB further cements its place as the leading advisor to the industry having advised on more successful transactions than any other investment bank.
For more information, please contact representatives of the deal team:
About Little Spurs
Founded in 2006, Little Spurs Pediatric Urgent Care has grown to 13 locations in San Antonio and Houston, TX. Dr. Spurgat, the Founder and Chief Executive Officer, created Little Spurs because of a realization that most patients waiting in the Emergency Room for treatment are not there for life threatening emergencies, yet still need care that is not available in most pediatric offices. Little Spurs has assembled a skilled staff of pediatric emergency room experienced, board certified pediatricians, and experienced advanced practitioners who are highly qualified to take care of minor emergencies in pediatrics. Vision: To become the premier pediatric urgent care provider in Texas; offering care for all children in our communities. Mission: To provide excellent medical care to all pediatric patients; strive for high quality customer service, and become a destination workplace for medical professionals. Values:Compassion, Respect, Teamwork, Dedication, Communication and Quality Care.
Learn more at www.littlespurspedi.com
About AMB
AMB is a family office platform and corporate advisory firm dedicated to managing and preserving clients' wealth and solving their corporate challenges with meaningful, long-term relationships. Our healthcare investment banking team combines a wide array of capabilities with the passion, responsiveness and focus of a boutique firm. We believe in a top-down sector focused approach to ensure that clients receive sector expertise in addition to firstclass execution. We invite you to Discover the Difference.
Other Select AMB Led Retail Healthcare Transactions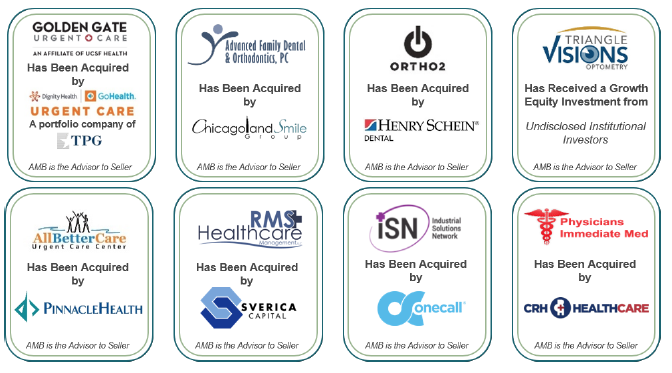 1) Securities offered through Allen Mooney & Barnes Brokerage Services, LLC (Member FINRA / SIPC)
2) Money management services offered through Allen Mooney Barnes Investment Advisors