NEWS
Keep up with the latest investment trends, market movements and news from AMB right here with our frequently updated expert commentaries, newsletters and announcements.
AMB is pleased to announce the growth equity recapitalization of Triangle Visions Optometry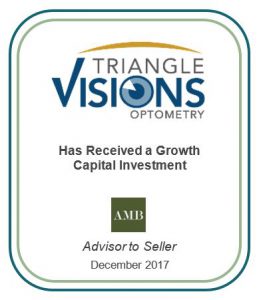 AMB served as the exclusive financial advisor to Triangle Visions Optometry ("TVO" or the "Company") in its growth capital investment by undisclosed institutional investors.1
TVO, headquartered in Morrisville, North Carolina, is a leading optometry platform with 15 centers throughout the state. The Company intends to use proceeds from the transaction to acquire additional optometry centers and invest in its corporate infrastructure and back office support.
This transaction reinforces AMB's commitment to the vision sector and exemplifies its focus on executing favorable outcomes for its clients.
---
For more information, please contact representatives of the deal team:
About Triangle Visions Optometry
Triangle Visions Optometry is an optometry platform serving populations in North Carolina, mostly densely focused around the research triangle. Headquartered in Morrisville, North Carolina, the Company was founded in 1973 and started as a single center. Two optometrists saw an opportunity to create significant value for their communities by expanding the Company's footprint while maintaining its focus on relational optometry. The centers are typically open from 8:00AM to 5:00PM every day and are staffed with licensed optometrists, optometric technicians, sales consultants and vision therapists (in select locations).
Learn more at www.trianglevisions.com
About AMB
AMB provides comprehensive financial services, including investment banking, investment advisory2, brokerage and personalized client services to a diverse group of clients, including corporations, institutions, individuals and families. We created AMB to offer our clients a better way of managing and preserving their wealth and solving their corporate challenges—one based on meaningful, long-term client relationships.
Our healthcare investment banking team combines a wide array of capabilities with the passion, responsiveness and focus of a boutique firm. We believe in a top-down sector focused approach to ensure that clients receive sector expertise in addition to first-class execution. We invite you to Discover the Difference.
Other Select AMB Led Retail Healthcare Transactions