NEWS
Keep up with the latest investment trends, market movements and news from AMB right here with our frequently updated expert commentaries, newsletters and announcements.
AMB is Pleased to Announce the Agreement for the Sale of AllBetterCare to PinnacleHealth
AMB is Pleased to Announce the Agreement for the Sale of AllBetterCare to PinnacleHealth.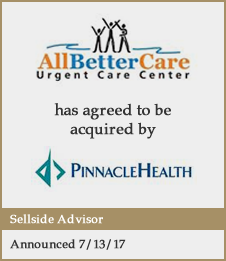 Role: AMB served as the exclusive financial advisor to AllBetterCare in the transaction.
AMB is pleased to announce an agreement regarding the sale of AllBetterCare to PinnacleHealth, which is expected to close soon. Terms of the deal are not disclosed, but staffing, medical providers and management oversight at the centers will remain unchanged.
Having now completed 15 transactions in the urgent and primary care sector alone, AllBetterCare's sale further underscores AMB's commitment to and knowledge of the sector and its focus on executing favorable outcomes for its clients.
---
For more information, please contact representatives of the deal team:
About AllBetterCare
AllBetterCare Urgent Care is an urgent care and occupational health platform serving populations in Central Pennsylvania ("PA"). Headquartered in Mechanicsburg, PA, the Company was founded in 2010 by a group of emergency physicians who saw an opportunity to create significant value for their communities by offering convenient walk-in treatment of time-sensitive conditions outside of an emergency department. The clinics are typically open 8:00AM to 8:00PM every day and are staffed with licensed and board-certified physicians, physician assistants, medical assistants and radiographic technologists.
Learn more at www.allbettercare.com
About PinnacleHealth
PinnacleHealth System is a nationally recognized leader in providing high-quality, patient-centered healthcare services in central Pennsylvania and surrounding rural communities. Its more than 1,400 physicians and allied health professionals and approximately 8,000 employees serve a 10-county area through outpatient facilities and seven acute care hospitals with 905 licensed beds: Carlisle Regional Medical Center, Community General Osteopathic Hospital, Harrisburg Hospital, Heart of Lancaster, Lancaster Regional Medical Center, Memorial Hospital of York, and West Shore Hospital. The not-for-profit system anticipates caring for more than 1.2 million area residents in FY 2018.
Learn more at www.pinnaclehealth.org
About AMB
AMB provides comprehensive financial services, including investment banking, investment advisory, brokerage and personalized client services to a diverse group of clients, including corporations, institutions, individuals and families. We created AMB to offer our clients a better way of managing and preserving their wealth and solving their corporate challenges—one based on meaningful, long-term client relationships.
Our healthcare investment banking team combines a wide array of capabilities with the passion, responsiveness and focus of a boutique firm. We believe in a top-down sector focused approach to ensure that clients receive sector expertise in addition to first-class execution. We invite you to Discover the Difference.