Behavioral Health:
ABA Therapy
INDUSTRY SUMMARY
Understanding ABA Therapy
ABA Therapy is a mature scientific discipline that focuses on the analysis, design, implementation, and evaluation of social and other environmental modifications to produce meaningful changes in human behavior.
What Disorders are Treated?
Autism Spectrum Disorder (ASD)
Anxiety
Attention-Deficit/Hyperactivity Disorders (ADHD)
Borderline personality disorder
Developmental disorders
Obsessive-compulsion disorder
Post traumatic stress
Sleep deprivation
Substance abuse
Who are the Providers?
School-based providers:

Offered in the classroom alongside teachers, stand-alone centers, and outpatient facilities
Typically paid by school funding

Community-based providers:

Offered in a brick and mortar setting or in-home
Typically paid by commercial insurance companies or Medicaid
What are the Benefits?
Acquiring and practicing social skills
Decreasing problem behaviors
Developing memory and cognitive abilities
Improving language and communication skills
Improving attention and focus
Learning daily living skills
Managing feelings of aggression and anxiety
Assessment: Clients are assessed through a combination of interviews, observations and conversations with therapists, teachers and parents
Treatment: Implement unique techniques to help achieve the client's goals
Therapist Training: Provide training for parents, therapists and family members in order to maintain continued desirable client behaviors
ABA Market Overview
The ABA therapy market is expected to grow at a 4.5% CAGR over the next 3-5 years, however, the needs of the growing ASD population remain grossly underserved.
ASD Prevalence in Children
As of 2022, the CDC estimated that ASD prevalence increased to 1 in 44 children in the U.S.1
Improved monitoring of ASD has led to increased diagnosis among Americans and awareness of the economic burden it creates
Top 9 players posted $547 million in revenue in 2019, and are all for-profit organizations
The majority of providers generate $5 million or less in annual revenue
Most ABA Therapy businesses are one-to-two clinic operators founded by Board Certified Behavior Analysts ("BCBA") and unfortunately lack the resources for rapid expansion
1 CDC prevalence report is released biennially, using the results from 4 years prior
Sources: Publicly available data
---
Current supply of clinicians is insufficient to meet growing demand for ABA therapy services as an estimated 100,000 BCBA are needed to serve the ~1 million children with ASD in the U.S., but only 30,000 are available.
ABA Market Growth
The ABA market is expected to grow to $2.45bn by 20251
In 2020, treatment programs generated $1.4 billion, while the medications market was worth approximately $600 million2
A shortage of child psychiatrists has resulted in over 50% of children in the U.S. with a mental health disorder not receiving treatment from a mental health professional
PE Deal Activity: Mental & Behavioral Health4
Available data shows an avalanche of deal volume in Q4 2020, with a record 22 deals to close out the year
This momentum continued into 2021, with at least 11 transactions made in each of the final three quarters
Like other healthcare services, the mental and behavioral segment is highly fragmented and lacks scale
1&2 Sources: Publicly available data
3 Deal count # in actuals
ABA Market Key Drivers
Due to better understanding and education around ABA therapies there has been increased diagnosis of behavioral health disorders among Americans and recognition of the economic burden it creates.
Increased incidence of ASD & diagnosis
Children with ASD have steadily increased over the past 2 decades from 1 in 150 in 2000, to 1 in 44 as of 2022
Mounting recognition of importance
Increased recognition of the benefits of early intervention and intensive therapy on children with ASD
Increased mandatory insurance requirements
All 50 states in the U.S. now require mandatory insurance coverage for ASD for state-sponsored plans, compared to 38 in 2014
Multiple growth avenues
Investors are able to better negotiate rates with payors, recruit additional providers, and build a strong brand presence
Highly fragmented industry
Top 9 players only account for 27% of revenue, while the remaining portion of the market is largely fragmented across smaller players
Stability relative to traditional healthcare
ABA market is relatively more stable with less stringent regulatory headwind
Sources: Publicly available data
ABA Beyond Autism Spectrum Disorder ("ASD")
ABA and ASD have been synonymous for years now, but research highlights ABA's applicability to several other behavioral issues outside of ASD alone.
ABA treatment is widely recognized as the most effective method for treating ASD, but its evidence-based treatment methods are applicable beyond ASD alone
All 50 states across the U.S. require insurance coverage for ABA as it relates to ASD. However, whether insurance will cover ABA therapy without an ASD diagnosis varies state to state
Mental health issues in schools and the provision of more providers will ultimately expand ABA recognition beyond ASD exclusively
The current macroeconomic uncertainty and labor shortage will delay the aforementioned expansion. 2022 began with 10 million job openings and 7 million unemployed
Other Disorders ABA Therapy Can Help Treat
Attention- Deficit/ Hyperactivity Disorder ABA therapy can help children with ADHD interact appropriately with others.
Obsessive Compulsive Disorder ABA therapy can help children with OCD cope with their disorder to prevent disruptions in daily life.
Oppositional Defiant Disorder ABA therapy can benefit children with ODD by conditioning them to act in healthier ways and discouraging them from the negative behavior characterizing the disorder.
Post-Traumatic Stress Disorder ABA therapy isn't the only therapy needed to treat PTSD, but it is beneficial in reducing the negative reactions to the memories.
Panic Disorder ABA treatment for panic disorder will likely utilize behavioral activation, or BA. The idea is to teach the client that behavior can affect mood, giving them more control over their attacks.
Sources: Publicly available data
ABA Regulatory and Reimbursement Environment
Over the past two decades all 50 states have taken action to require meaningful coverage for treatment of ASD in state-regulated health plans. As it currently stands, ABA regulations focus almost exclusively on ASD.
ASD Reform Across the U.S.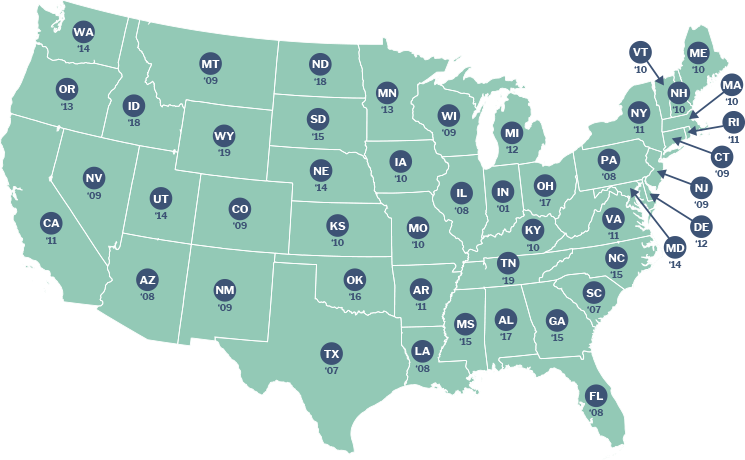 All states require coverage for ABA, however, some states limit this coverage based on age, dollar or hour caps
Some state ASD insurance laws exempt or "carve out" one or more plan types from coverage requirements
Fully insured plans are subject to laws in the state where they are issued, not necessarily where the beneficiary resides
Mental Health Parity and Addiction Equity Act
2008
Prevents group health plans and health insurance issuers that provide mental health or substance use disorder (MH/SUD) benefits from imposing less favorable benefit limitations on those benefits than on medical/surgical benefits
Autism CARES Act
of 2019
September 2019
Under the Autism CARES Act of 2014, > $3.1bn was dedicated for ASD throughout various agencies; the CARES Act of 2019 authorizes an additional $1.8bn over the next five years
Consolidated Appropriations Act
December 2020
Requires that group health plans prepare a detailed, written comparative analysis for each of the plan's nonquantitative treatment limitations (NQTLs)
Sources: Publicly available data
Top 4 Players
The industry is very fragmented with few larger players, creating opportunities to drive growth through M&A and de novo expansion.
Company
Inception
Funding/Backing
Locations
Employees
Services/Treatment
1990
Acquired by Blackstone in 2018
24 States
(221 locations)
2,531

ABA/ASD services
Center-based services
Specialized outpatient services
Training programs
Remote clinical services
Card academy

2005
Acquired by Moran Capital Partners in 2015
12 States
(172 locations)
810

In-home treatment
Center-based services
School-based services

2017
KKR formed in 2017
17 States
(>160 locations)
575

Nationwide provider of individualized high-quality and innovative therapy
Center-based services
Home-based services
School-based services
Community-based services
Virtual therapy along with early intervention services

1988
Acquired by FFL Partners in 2017
20 States
(128 locations)
1,391

Center-based services
Home-based services
Diagnostics services
Speech, occupational and physical therapy
Telehealth services
Sources: Publicly available data
AMB Investment Banking Snapshot and Deal Team
AMB focuses on lower middle-market healthcare niches where consumerism and fragmentation meet to disrupt traditional healthcare channels. We typically advise companies with EBITDA of $5M to $20M and an average enterprise value of $100M, but will move up and down the spectrum. AMB's research-oriented approach to business development has resulted in a vast network of strategic and financial sponsor relationships that yield industry leading intelligence and optimal outcomes for our clients.